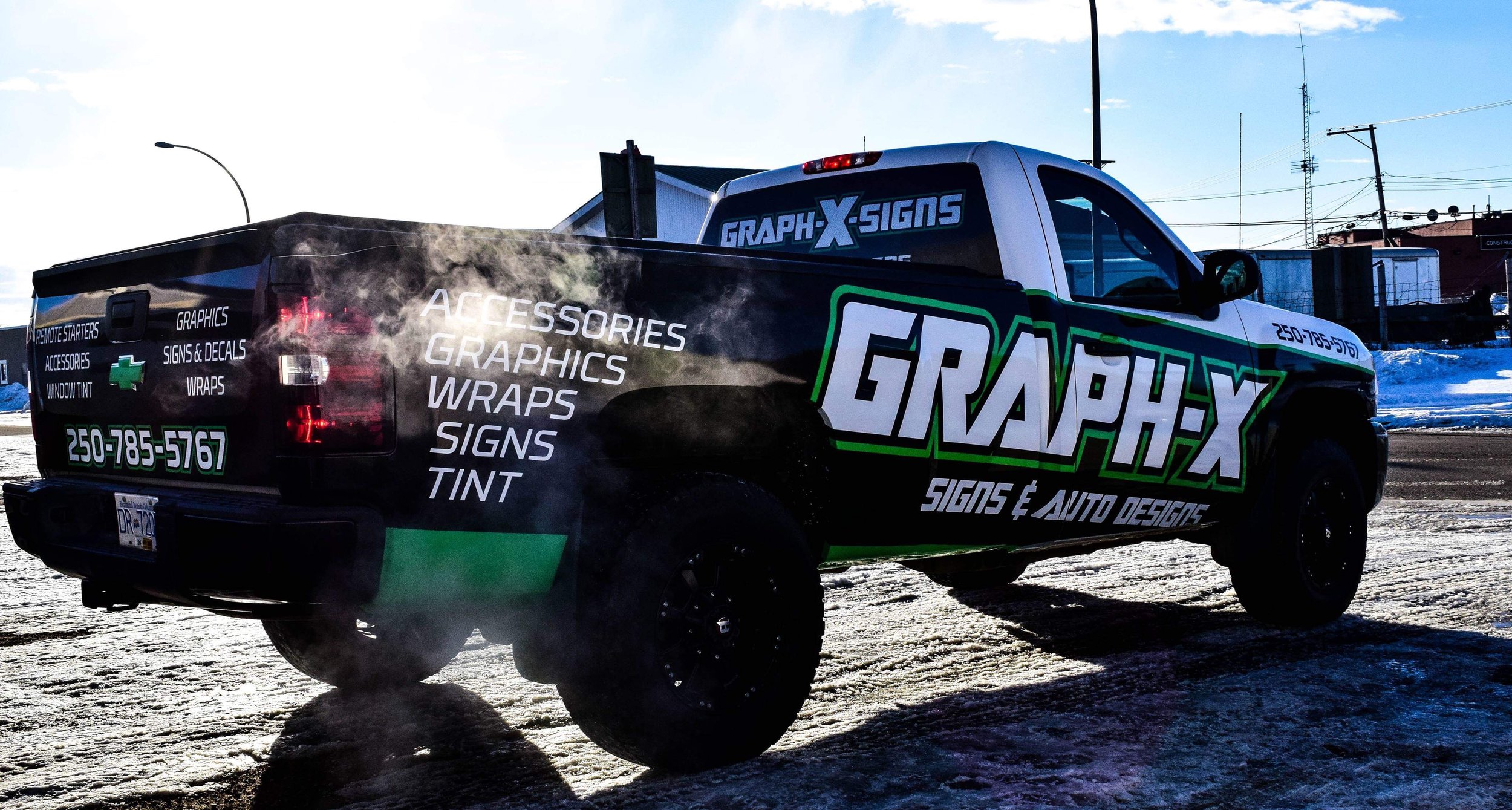 Your Friendly Community Sign Shop
created Locally from concept to completion
Located centrally in busy Fort St. John, Graph-X Signs & Auto Designs is a locally owned and operated custom sign and auto accessory business.
Graph-X Signs and Auto Designs opened in 2003 and is located close to the Alaska Highway in Fort St. John, BC. Since then, Graph-X Signs has been serving both quality installations of auto accessories and creating new signs and automotive graphics for both new and existing clients in the peace region.
With new ownership in May of 2018, we still pride ourselves in creating and providing the best quality for our customers; old and new! We will work within your budget and create options for your latest project with an efficient turnaround time.
We have two full size printers and our large shop bay allows us to work on multiple vehicles at once. We can do everything; from giving your company fresh decals, vinyl pinstripes, command starts and aftermarket automotive accessories!
Give us a call today!
Phone
(250) 785-5767
Location
10308 94th Avenue
Fort St. John, BC
V1J 4X3
Hours
Mon - Fri 8a–5p
Sat closed
Sun closed
Decals
These things are everywhere! Vehicles, equipment, home projects, and more get detailed with custom decals. Full colour prints or simply cut vinyl can make your business fleet or company hard hats stand out from the crowd! We have various vinyls in stock but if we don't quite have what you're looking for, we can always order it in from our distributor.
Signs
At Graph-X, we pride ourselves in our quality signage. We mainly do oilfield signs for our community but we also do a ton of business signage. Gemini letters, illuminated signs, billboards, sandwich boards, or just a simple sign to make sure your employees clean off their muddy boots; we do it all!
Our materials consist of coroplast, dibond, cintra, styrene, lexan, magnet, and aluminum so the options are endless!
We also provide perforated vinyl for your vehicle or business windows. It creates privacy while slightly blocking out the sun but also advertises your business!
Wraps
Want to give your wheels a new look without the permanent style of paint? Do you have a business that needs to stand out while on the job? Come to us and get a wrap that is sure to turn heads! We can even wrap your guitar to give it a custom look that could be a conversation starter or a more personalized item when meeting your favourite band!
Paint Protection Film
Living in the North, it is hard to avoid rock chips. Getting a paint job isn't in the budget? Give us a call and book an appointment to protect your vehicle from the nasty hits that cause rusting and keep your ride looking brand new!
Installations
If you get signs made by us or you order an accessory for your truck, we would be happy to install it for you! Give us a call or let us know upon ordering and we can set up a time that works.
Auto Accessories
Does your vehicle need an little extra something? Give us a call or come down to the shop and look through our catalogues for a vast variety of add-ons! We have everything from lights to headache racks and mud flaps to floor mats. If you need back-up alarms or deer alarms for your fleet vehicle upgrades, we have those too!
Astro Start - Command Start
Here at Graph-X, we look to one brand for our remote starts. AstroStart has a range of remotes to heat your vehicle in the winter and cool it in the summer. There is even a SmartStart option where you can start your vehicle with your phone using Bluetooth! Call or come in to our shop and talk to our installer about the options for your vehicle.
Window Tint
Vehicle Tint
Do you think your vehicle needs a sleeker look or want more privacy? Window tint can make that happen! With various levels of tint, we can change the look of your vehicle.
Commercial Tint
Is the light too bright in your office? Want more privacy from people passing by? We offer different tints for your desired look, including mirrored tint so people can't see through your windows but you can still see out.
Frosted etch is another option we have available for commercial buildings. It creates privacy but still lets some light in for transparency. We can also cut your logo or design out of the vinyl to customize your office space!
Graph-X Signs
Hours of Operation: Email:
Mon - Fri: 8am-5pm Sales: sales@gxsigns.ca
Sat - Sun: Closed Signs: signs@gxsigns.ca
Phone:
250-785-5767